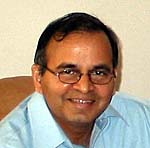 Working for last 3 years as ERP(SAP) consultant specialising in Production Planning Module. Employed with a Hyderabad based company -- Oak Brook Technologies. In 2004 he was in USA on a Project (to implement SAP R/3 - Production Planning Module) at Mitsubishi Chemical America Inc, Chesapeake, Virginia as a part of Clarkston Consulting Team.

Prior to taking up SAP, had his own Machine Design consultancy firm (Sateesh Kamat & Associates) based at Ambernath which specilsed in design of all types of cranes, wire rope hoists, industrial structures and steel plant equipments like Continuous Casting Plants, cooling beds, roller tables, etc. This was for 10 years. During this period he also developed and sold some software for design of cranes and gear boxes.
For the first 14 yrs. in his career he was employed in L&T, ISPL and GARLICK Engg in their Design & Development Departments.
Res: 9, Indraprabha, Plot No.345, Kannsai Section, Ambarnath, Dist. Thane, Maharashtra, India, PIN 421 501 Ph : (0251) 604090, 603091, 605353
E-mail: sateeshkamat@yahoo.com , saijui@vsnl.com
Wife: Mrs. Vaijantee, M.A. (Eco.), MCSD. She is a freelance Software Consultant, works on Microsoft and Java platforms. She has her own office and staff in Ambernath and takes Classes for Microsoft and Java certifications and High School Education.
Elder Daughter: Snehamayee Kamat, B.E.(Electronics). Employed in INFOSYS Technologies, Pune as Software Engineer from August 2000. Married to Amit Ulhas Kulkarni, IT analyst with TCS at Mumbai.
Younger Daughter: Maitreyee Kamat. She is studying in final year, B.Tech. (computers) at Dr. Babasaheb Ambedkar Technological University, Lonere (near Mahad on Mumbai Goa highway).